Jesse Jin
---
Hello, welcome to my Carrd for artwork and design management on Toyhouse.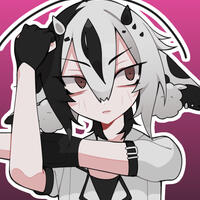 TRADE/SALE PREFERENCES
I will always prioritize any resales over trades!

Please do not offer art if you have a currently long queue, or estimate that a small amount of art will take over a month to complete. I do not feel like constantly waiting for updates from artists who don't communicate with me while my characters are helplessly stuck in limbo.

I have a small list of artists I would enjoy receiving designs, customs, or artwork from in exchange for anything that I am trading or selling. The list is here.

I have quit closed species and no longer look at general offers of closed species designs. The only ones I make exceptions for are Dainties, since they're the most basic and generic kemonomimi on the planet and can be used as anything.

I don't do pinglists; I have an extremely poor memory due to my stacked mental illnesses, and having to keep up with individual lists, adding and removing people, etc, is too much for me to do, sorry.

I do not do holds unless we have traded before in the past and I can trust you, or if you pay a minimum of 50% up front in the case of resale that is $100 or more in total; anything less will not get holds.
I WILL NOT SELL TO, TRADE WITH, OR GIFT OCS/ITEMS TO THE FOLLOWING:
People who have me on their blacklists, or who have previously put me on their blacklists. I don't care that you took me off your blacklist; the fact that I was previously there is more than enough reason for me to not want to do business with you.

People on my blacklist. This should be self-explanatory.

Serial traders, freebie-flippers, brown-nosing closed species stans, chronic hoarders of any sort, especially the ones who are proud of their hoarding and make no effort to stop. Why do you need them all? Why can't you let someone else have just one? Will it kill you to not have every design? Get help.

People attempting to get an oc from me so they can then trade to one of the above types of people. I will add you to my blacklist if I find out you've done this.
ARTISTS THAT I ENJOY, AND AM GENERALLY SEEKING DESIGNS AND ART FROM:
Xanen 💙💙💙💙💙 (anthro designs strongly perferred; picky with feral)

Carnivox 💙💙💙💙💙

Keruumon 💙💙💙💙💙 (feminine male humanoid/kemono only)

Blueberrivv 💛💛💛💛

DaikoArt 💛💛💛💛 (masc/androgynous only, bonus if purple themed!)

Goobieroo 💛💛💛💛

Plushpon 💚💚💚 (older, off-base designs only!)

Pogogu 💚💚💚 (fantasy/xianxia designs preferred)

Stacy-White 💚💚💚 (male fantasy designs only)
YOU CAN SELL MY DESIGNS FOR ANY PRICE, REGARDLESS IF IT WAS BOUGHT OR TRADED
The only exception is if it's a closed species design; it must adhere to the rule of the species!

Your own artwork can add to the monetary value as long as it is reasonable and not abused

If you have one of my free designs, you can still sell it if you want to!
NOTIFY ME OF MAJOR DESIGN OVERHAULS
Standard changes (ie species change, color changes, etc) are fine and do not need permission

I only want to be notified about thematic overhauls; I do not want my name to be listed as the creator for a character redesigned to incorporate offensive themes, imagery, etc.
IF YOU CONVERT A DESIGN INTO A CLOSED SPECIES, IT MUST REMAIN BOUND TO THAT SPECIES
Even if you do not plan on using my original design anymore, it needs to be kept with the species transfer so that anyone who obtains them later will know where the inspiration came from

If you give one of my designs alternate forms, even closed species variants, or vice versa, the same rule above applies. They cannot be separated from my design.
MY DESIGNS ARE NOT FOR COMMERCIAL USE BY DEFAULT
If you would like to gain the commercial rights to one of my designs that you currently own, please message me and we can discuss terms.

If you obtain one of my designs from someone who purchased commercial rights, you also inherit the commercial rights to that design. They do not need to be purchased again.
BY ACCEPTING ONE OF MY DESIGNS VIA PURCHASE, RAFFLE, OR CHARACTER TRANSFER, YOU ARE HEREBY AGREEING TO THE ABOVE TERMS.
JESSE'S BLACKLIST
Anyone who works for, guest designs for, or actively participates in the Celestial Seas ARPG. Former community members are a case-by-case basis; former staff members are not trusted and will likely not ever be off my blacklist, with the exception of Anthe and Rad3o.

Anyone who works for, guest designs for, or actively participates in the Skire ARPG.

//

DipperPines - annoying passive-aggressive child who can't work out their own personal issues

Roxalew - artist who draws pedophilia, genital mutilation on childlike "adults", and fetishizes pedophiles and makes them important story characters, furthering their agenda, as well as sanctions their followers harassing other people by sending them graphic animal pornography

CloverCoin/TailSideUp - bestiality porn artist, harasses children, makes pedophilia references and jokes for shock value

brianARTOONZ - known pedophile and groomer

June_Kiri - copied an oc of mine and sold it as an adoptable for profit

Casin0s/Nicooo, and any of their loyal supporters

Gatorstooth

Kingsteeth

Hydrabones

Myxake

KingSmiggles